The Accommodation at the Kepler Oaks Chalet:
The Kepler Oaks Chalet has panoramic views from every window, but is totally private from our home.
You can sit on the porch with a coffee or wine, relax and enjoy the glorious views, the birds singing, and the fresh smell of New Zealand's native bush. Our pets include horses, dog, cat, sheep, chickens, rabbits and guinea pigs .
The chalet is self-contained. It has an oven, fridge, microwave, sink, cooking equipment, basic pantry items, washing machine, TV, video, free Wi-Fi access, magazines, and large bathroom with spa bath.
The chalet sleeps 5 - it has a queen bed in one bedroom, 2 single beds (which can become a king on request) in the second bedroom, and a mattress available for an extra person. Baby equipment, toys and bikes can be arranged if needed.
Fully furnished, cotton linen and towels make the chalet ready for a delightful stay. Double-glazing, electric blankets and a wood burner make for a cosy time in winter.
Rates:
Chalet rates are $200 -$345. Children under 5 years free. Please enquire or get a quote online now, discount for longer stays and out of season rates. Continental breakfast provisions provided in the Chalet. Complimentary baking on arrival. Complimentary bottle of New Zealand wine if staying for 2 or more nights.
Guest Book Comments:
22 May 2020 to 24 May 2020
We have had a fantastic weekend away, in part Thanks to your fantastic little chalet and friendly welcome. Just what we needed after lockdown and been stuck at home for weeks on ends. We Loved waking up to our fat chicken on our porch every morning. Think he's found a way to escape. That the others don't know ablout, He's very cute! Thanks for being a fantastic host and we will definately recommend your place if we have any friends coming to Milford and tell them NOTto get the long bus from Queenstown. PS The bread was lovely! Mikey and Danielle
15 May 2020 to 18 May 2020
Love the place, so welcoming the hot bread was delicious. Thank you for the breakfast goodies and rocommendations for sightseeing. We will be back once again. Thank you thank you Best weekend yet Lovely family nice chatting with you all. We'll be back Neil Anita and Sam.
25 March 2020 to 14 May 2020
Lockdown 2020 gave us the opportunity to stay for 7 weeks at Kepler Oaks. Safe relax and Lucky! The perfect place as no one around. We were lucky indeed and Roabert and I were more than happy to stay here rather than being in the Netherlands. Wish you and all the kiwi a solution soon to solve this virus problem. So that the tourisum can start again. also from abroad. We did not see Penguins but we spend a great great time 7 weeks in Heaven Paradise. Thank you Kepler Oaks with the best view of William Stephen Road Dear Helen Mother of Keper Oaks you spoiled us with great bread home made and sweeties. You spoiled us with horseback riding and much more a lovely dinner with your family Stay safe and happy. Thank you so much Elma & Robert
11 March 2020 to 13 March 2020
We had the most wonderfull time here. Wish we coul stay longer, like to come back. You took so good care of us, thank you so much for that and we love the view. Lex and Annelies Annsterolam the Netherlands
23 February 2020 to 26 February 2020
Dear Helen Thank you so much for the great stay in your beautiful Kepler Oak Chalet. We enjoyed the house which is perfect, especially the nice washing machine. And of course the gret garden with the animals, the picnic table, the porch and the beautiful surrounding you live in. The tour into Doubtful Sound and the walk on the Kepler trail are real highlights. For us you were a very kind, generous, just perfect host. We would like to stay longer, but ther is so much more that your beautiful ountry has to offer us. So we say good bye as your very satisfied and grateful guests, Cees and Tineke van Ravesteign
18 February 2020 to 21 February 2020
Dear Miss Helen Thank you for the wonderful stay, the magnificant views and your hospitality. We had great trip to Doubtful Sound and yesterday a beautiful walk. Bye, Kees, Desiree, Macrten and Margret
9 February 2020 to 12 February 2020
We had a wonderful stay at this lovely place! Thank you so much for the delicious bread and cake. WE enjoyed it very much! We really had a relaxed time here. Betst regards Mari Anne & Josef
1 February 2020 to 4 February 2020
Thanks for the excellent stay. The hospitality was great and you were very friendly hosts. The sheep and alpaca were awesome, the kids very much enjoyed them. Thaks goodbye Mark egeualela Eline
23 January 2020 to 26 January 2010
We wee very pleasantly surprised by all the lovely touches around the place, namely our well stocked fridge and excellent bread! Owners are generous and friendly obviously caring and knowledgeable about the area. Thank you for a great stay! We will find it very sad to say farewell to all the beautiful animals.
7 January 2020 to 9 January 2020
Thank you for your wonderful hospitality. We really appreciated the extra care you took to help us enjoy our stay. and we LOVED your bread. A fabulous touch!

21 December 2019 to 24 December 2019
Thank your for the great time we had in your chalet. It is a vvery nice and cosy house with a beautiful view. The children loved the animals and Ingmar really like th pony ride. We appreciated the banana cake a lot and also the freshly baked bread.
19 December 2019 to 20 December 2019
Amazing views, charming animals to interact with and watch go about thir daily activities. Feeding the sheep was delightful! Helen is a wonderful host and makes the best bread! Thank you for sharing your home with us. Stephanie and Arne
26 November 2019 to 27 November
Thanks you Helen for the wonderful farmstay. The chalet is comfortable and cosy. and the food was delicious we actually didn't know you provided breakfast, but the bread was really good. I would willingly eat bread with jam every morning if I had that kind of bread. Thank you for taking us out on a horse ride even whenit was getting dark outside, it was fun and Bonny was ver y nice to us. Would love to come back sometime. Xin Yuan
17 November 2019 to 20 November 2019
We didn't manage to see you before leaving. Thank you for everything it was lovely staying here. Beautiful quiet peace of paradise. All the best, take care Frank and Melanie
8 November 2019 to 9 November 2019
Dear Helen, Its an interesting experience to stay at your beautiful farm. Resting and watching animals walking by your window. It's my best sleep since I arrived inNZ. It's a pity that we only had one night here. I wish I's have a shole week to appreciate every lovely detail of this Paradise. Yang Yunfan
28 October 2019 to 30 October 2019
Dear Helen Thank you for our staying in Kepler Oaks Chalet. The view is stunning. We felt very welcome, thanks to your great service. Kind regards Herbert and Paula
20 October 2019 to 23 October 2019
Thank you so much we loved our stay here. Beautiful cottage, beautiful view. Kids loved the animals. Kind regards Mauren Nieue, Bran, Anne
29 September 2019 to 1 October 2019
Thank you for a wonderful stay! Your property is absolutely beautiful and we very much appreciated the extra details and help with the fire! We are travelling on our honeymoon and this has definitery been a highlight of ths special time. Also thank you for the wine and bread!
25 September 2019 to 26 September 2019
Dear Helen Thank you for your hospitalty the fresh bread and jam were amazing delicious! We enjoyed our shourt stay and will definately visit again. Kind regards Pieter and Rika
21 September 2019 to 22 Setember 2019
Thank you for sharing your lovely home with us. We had a gret time and the animals were super cute and friendly. There is nothing I can fault so keep doing what you do. Hope to stay here again in the near future! 10/10 Marta and Thomas
17 September 2019 to 19 September 2019
Thank you Helen and family for the most wonderful stay in NZ for us.
10 September 2019 to 12 September 2019
Thank you for sharing your lovely cabin with us. The fresh bread was delicious and the exta little touches made our stay perfect. We wish we had a few more days to appreciate this place. Sincerely Ryan and Rachel
17 August 2019 to 18 August 2019
To Helen We had a great time here. We had a lot of fun with the sheep. Bolt, the stars and the wonderful spa pool. Thank you so much and welcome to China. Best wishes Kitty
13 August 2019 to 15 August 2019
Dear Helen Thank you very much, we enjoyed our stay. We really appreciate your excellent hospitality coming back to a warm, clean house and a home made loaf of bread was extra special. Thank you so much, will definately come back and recommend you to my whanau and wider community. Take care and all the best Darby & the Darwin crew
21 August to 24 August 2019
Dear Helen, Dave, George, Thomas and Harry. Thank you so much for having us. We have had such a lovely relaxing time. Stella absolutely adored the animals we appreciated so muh the fresh bread, cookies and caramel slice, such a lovely touch. So sorry we missed out on catching you a trout for dinner. Thank you againfor having us. Hopefully we will se you again. Sophia, Dave and Stella
4 August 2019 to 6 August 2019
Dear Helen and family Thank you so much for being a great host. Your chalet is indeed a little gem! We wished we planned a longer stay here. Were still got quite a few more places to visit in South New Zealand but we are leaving with wonderful memories of a very very pleasant time spent here. Good time to you all From Yuran, Nella and Fan.
8 July 2019 to 9 July 2019
Helen and Family thans for a great though short stay! The scenery is absolutely breath taking! Love the home baked bread and cake (yum) Continue to enjoy you piece of heaven Kim and Liam <urrajong Heights Australia
23 June 2019 to 24 June 2019
We loved our stay at Kepler Oaks chalet. Helen and David were great hosts. Kids had a gret time tih the animals the pony ride on Bonny was lovely along the road towardsthe river. Helen bakes delicious Breads, and that is our dinner tonight. Thanks a lot for hosting us. Love Punestha & Venkat
15 June 2019 and 17 June 2019
Thank you for your thoughtful gestures. My Family appreciate your fresh bread and wine so as all the goodies in the basket. It has been a pleasure sharing your property with us. Wish we can stay longer. Thank you Helen and David
4 June 2019 to 6 June 2019
We wanted to thank you so much for your hospitality during our stay. Your place is so cosy really well equipped, for cooking relaing & keeping warm. Yo were so patient attentive to our 3 year olf Liver, we really appreciate it. He had a wonderful time looking flor Bolt and playing in the gravel pit. Thanks again, you went above and beyond to make our stay comfortable. We love it and now wish we stayed longer. Cat, Trev & ollie
22 April 2019 to 25 April 2019
Thanks so much Helen & David & boys for the wonderful hositality, what a wonderful cottage to stay in. Such a relaxing time after the Kepler walk. Many thanks we have the Milford to go so we will be back! Thanks Matt, Kate, Emily, Lucy Carter
14 April 2019 to 15 April 2019
Thank you David! We have a wonderful memory here! Your house is very nice, cozy and warm. We love your dogs, sheeps, chicen and pony. We will miss them and the place! Many Thanks Tar, Nanid, Tae, Pin From Thailand
19 April 2019 to 22 April 2019
Dear Helen, Dave and Boys We enoyed our stay i your beautiful chalet immensely. What a wonderful part of the world you live in. Thank you for your welcome and the exta little touches of bread, wine and caramel slices made it all an extra special stay for us. Can you email us the recipe. If we care down this neck of the woods again we would love to come back againl Kind regards Andrew, Jennifer & Callum.
29 March 2019 to 26 March 2019
We have enjoyed your beauiful lodge and stunning views. Thank you for your hospitality many greetings from Karin, Renee and Ronald
28 March 2019 to 31 March 2019
Thank you for your hospitality. We had a lovely time in the cottage and enjoyed our explaration of the area. Also, many thanks for the birthday cake and wishes. It was also lovely to meet you and your family including the furry ones. Don't forget to send us your email address and when we get home and Ted edits his pictures we will send it to you. Ted & Deb
22 March 2019 to 24 March 2019
Dear Helen Thank you so much for yet another awesome stay, we love the chalet and your friendliness. We had a fantastic time exploring the paddocks with Thomas. See you next time! Biance, Roberta, Luci and Carlos
10 March 2019 to 17 March 2019
Thank you Helen and Dave for your wonderful hosting of our week stay here. We loved the whole experience eaasy day trips, thank you for your suggestions, awesome evening starry skies, quite surroundings in a comfy home. Loved the fireplace. The wine, juice, bread, jam, butter, cake- beyond anything we expected. Doing a load of laundry for us. Thanks you so much! Our stay here topped off an unforgettable trip. duane Wilma, andrew & Annie King
4 Feb 2019 to 7 Feb 2019
Thank you Helen and David for sharing your little piece of paradisein Te anau. We thoughly enjoyed your hospitality. The chalet is so well equiped and such a gret nights rest after a big bike rides and the amazing experience of Milford sound. Thank you. We hope to return. Kath Brenton Australia
26 Feb 2019 to 28 Feb 2019
Thanks for sharing part of your paradise. If our first day here in NZ is a relection of what the next 15 days here will be, we may never leave, Your were a great host and took care of us like family. Thank you and God Bless. Tony Pulley The homebaked bread and chocolate cake wee a delicious special touch. We loved staying here. Also the spectacular view.
28 Feb 2019 to 5 March 2019
Thank you for a most relaxing break. We have thoroughly enjoyed it. Your hospitality is second to none. We weill definitely come back again and look forward to doing so. Quinn also enjoyed his holiday and looks forward to playing with Bolt again Kind regards maureen and Dave
19 Feb 2019 to 22 Feb 2019
Dear Helen, Thank you very much for mybirthday cake, I was suprised you have baked me one, We enjoyed it very much. Unfortunataly we couldn't eat it all. Thank you for your hospitality, we enjoy staying by you Kind regards Gerard and Ellen Arends
28 January 2019 to 31 January 2019
Most beautiful location on our trip! Thank you! and thanks again to George for helping us with the water accident. and special thanks to Thomas and Billy for the rugby lesson.
4 January 2019 to 8 January 2019
Thank you for your hospitality. We had a lovely time in the cottage and enjoyed our exploration of the area. Also,many thanks for the birthday cake & wishes. It was also lovely to mee you and your family including the furry ones! Ted & Debs
8 January 2019 to 11 January 2019
Helen and family, thanks so much for your hospitality! We have loved staying at your place to end our New Zealand vacation. Thanks Thomas flor the intro to the animals. the kis have loved interacting with them. Thanks helen for the baked goods and the pony ride. both were much appreciated. The little extra touches and friendliness and above and beyound. I have no boubt you will suceed as you expand your business. Rachel
16 January 2019 to 17 January 2019
Thank you for being a wonderful host. Your house is well presented with lots of ameneties. The complimentary breakfast and home made bread is the icing on the cake. The beds are comfy and the house has a rustic, English feel with its cutlery. The farm animals and outside lawn add to the many attractions for my family. Warmest regards. Sonn Leong, Yeh Bie, Julian & Charlene Sydney, Australia.
20 December 2018 to 22 December 2018
Thank you for another amazing stay at the chalet! We so love our time here and being with your wonderful family. This truly feel like our second family home (NZ)! Merry Christmas & Happy 2019! May our paths cross again. Much love, Ave, Bruce Cormack & Keelan
6 December 2018 to 7 December 2018
Thanks for the lovely and comfortable stay at Te Anau. We really appreciate your kind hospitality and letting us feed your animals. Hope you have an enjoyable festive season ahead! Kind regards Jen
23 November 2018 to 26 November 2018
Dear Helen We loved our stay in the cottage with all the lovely views. The cottage is well equiped with and everything we needed you supplied. Thanks for the lovely breakfast hamper and cakes. having your family life around us made us feel at home. Also we enjoyed seeing your animals around the house. Monique Marjan
20 November 2018 to 22 November 2018
Dear Helen We had a wonderful stay (it was to short) We loved the quiet environment, the warm fireplace, the choclate cake and the fresh bread. We will always remember the view yesterday morning and your hospitality. Thank you for everything. Annemiek en Garrit Ossewaarde Holland
8 November 2018 to 10 November 2018
Helen Thank you for everything. We had a wonderful stay here. The view of the mountains. It is almost sad to leave this place. It is so queit and gives you rest. Thanks for the hospitality and good care, especially Thomas who showed us around. Good luck for all of you. Goodbye Theo and Janneke
2 November 2018 to 4 November 2018
Hi Helen, We so enjoyed our stay here. Such a cozy farm cottage, complete with a wood burning ire, it brought back memories of our 40 years living in Maine. Thanks so much for the wine, fresh bake bread, cereal, milk juice etc. It was nice to have a lesily breakfast here. We also enjoyed spending time and playing with Bolt, the lamb and wthe vicious sheep, It's certainly a vacation stop we we always rember. Thanks so much again. Take care. Deb and Mike
29 October 2018 to 31 October 2018
What a blessing it has been to stay in your lovely home at kepler Oaks!You have been an amazing hostess, so warm, kind and genuine! Thank you for making sure our wood fire was warm and crackling, for the yummy fresh bread, butter jam, The wine and other tasty treats, for introducing us to you fine son Thomas and letting us feed the lamb, for the use of your bikes, and for all your expert recommendations on exploring your beautiful country. We wish you all the best. We pray Your MOm makes a speeding recovery Blessings on you and your family. Warmly, Kathy and Dean.
27 October 2018 to 29 October 2018
Dear Helen What an, absolutely amazing beautiful location! We love it! The whle chalet is perfectly equipped. We will share this address withour friends. Thank you for a wonderful stay. Aad en Krista
6 October 2018 to 8 October 2018
Dear David & Helen Thank you for your hospitality & Warmth. We love Bolt & Duke. They are such lovely & enthusiastic compnions. We love the different view from the different windows. Wish we could spend some time here and would love to have met you Helen. We would also like to thank, Thomas, George & Harry for showing us how to feed the lamb. Most important of all thank you David for being such a great host. Prraying for speedy recovery for Helen's Mom. God Bless Wing Sing, Madiline Yan Shien, Choon Wue. Singapore. P.S Love the jam & bread. It would be excellent if we could buy a few bottles back home.
24 September 2018 to 27 September 2018
Another wonderful stay Helen. A true home away from home that we, and the kids love. Looking forward to coming back on Sturday. Cheers Megan.
19 September 2018 to 22 September 2018
Thank you Helen for showing us a beautiful part of NZ. We loved the views, cute cottage, daily fresh bread, visits from Bolt, the cute and craxy animals, the horse rides and meeting you. The views are gorgeous. We loved being away from all the other tourists in your little slice of paradise. Keep doing what you are doing you're doing a great job. Keep smiling Love Dominic, Kari, Alyssa and Tahlia
5 September 2018 to 7 September 2018
Thank you so much for being so kind and welcoming during my stay in Te anau. I thoroughly enjoyed your chalet-everything about my stay was absolutely perfect! I will miss all your sweet animals and all of these amazing views. Hopefully our paths will cross again. Best wishes, Samantha Aylor Washington DC
3 September 2018 to 4 September 2018
Thank you Helen, for a wonderful welcome for my family and me. We were delighted to be introduced to your sheep, chickens and Bonnie, and the children loved their first horseback ride. The provisions in the kitchen were a lovely surprise, and from the first slice of toast I knowe I's have to take the rest of the loaf for a picnice lunch somewhere down the road! Kepler Oaks is a lovely place to stay, and I hope that we will be able to come back sometime to enjoy, once again, your warm hospitality. I will be recommending you when people ask where to stay. Thanks again Rachael
21 August 2018 to 23 August 2018
Dear Helen We really enjoyed our stay in Kepler Oaks Chalet and everything is just so good as we expected. Especially, the animals interaction made us so impressed, and it will be on of the most interesting thing in our trip to New Zealand. Thanks & Best regards Daniel Shi
17 August 2018 to 18 August 2018
Definitely we have a great time here. Thanks for your pony ride with our kids and we like Bolt much. He waits for us early in the morning and we're happy to have his companion We like the bread Yummy and the jam. I am extrmely excited that we've first seen the milky way that night. Grateful and Thanks Lord for granting us the great Beauty of the nature. Thanks again for keeping us warmth, and with unforgettable memory. Warm Regards Kadence
8 August 2018 to 10 August 2018
Thank you so much for such a wonderful stay! This has been our favourite place we have stayed on our entire honey mooon. Everything here is so beautiful and we have loved our time here. Being able to interact with animals was really great fun & the views were incredible. Thank you for the use of the bikes, it gave us the ability to explore even more. Most of all we LOVED the bread @ slice ( if the recipe isnt a secret I would love them both . Every little effort & little touches were really special. Thank you for the memories. Rachel & Adam
5 August 2018 to 8 August 2018
Thank you for such a relaxing & beautiful stay. We have enjoyed every minute at Kepler Oaks, you have made it such a warm & inviting place. Adelyn adored all of the animals and loved feeding them.. We loved all the extra touches like freshly baked bread, delicious jam and slice. Thank you so much Helen& family for your hospitality. Love Teagan, Paul & Adelyn Darwin, Northern Territory, Australia
25 July 2018 to 26 July 2018
I''m happy to come here. It's so much fun! I love it! You're very friendly and great. Me and my daughters love your animals and family. Thanks so much. We have a good experience here. Xiaeli Fan
18 July 2018 to 20 July 2018
Dear Helen, We really had a great time. Your chalet is so comfortable and homely Bolt's presence was a bonus and the other animals were a joy. The bread was so richly good and it was so thoughtful of you to provide us another loaf. Given a chance, we will surely recommend your place to our friends and relatives. Our only regret is missing you and not being able to spend more time here. Thank you so much for opening your door and making our trip more precious. We wish you well always! Gavin and Family
12 July 2018 to 14 July 2018
Thank you for everthing Helen and Lucy. We had the best day at Milford (Southern Discoveries was a great trip!) Thanks again, Holly and Jesse Melbourne, Aus The bread was amazing!!
28 June 2018 to 1 July 2018
Thank you so much Helen for your warm welcoming hospitality. We all loved our fresh bread each day! What a wonderful cottage & host. Everyone loved our little adventures here, so beautiful. Hope to be back one day. Thank you again Karen, Steven, Joanna & Zoe
20 June 2018 to 25 June 2018
Thank you Helen once again for making us feel so welcome. Win, warm bread and country hospitality make the Kepler Oaks Chalet our favourite holiday destination! Warm regards Leisa, Charlotte, Patrick and Peter
15 May 2018 to 16 May 2018
Dear Helen Thank you very much for being such a nice host. We enjoy our time here. We love the animals on your farm, the sheep, chicken, alpaca especially your dog Bolt. I will recommend this place to my friends. WElcome to Chengdu in the future to see pandas and have a taste of hot pot. Yushan & famiily
11 December 2017 to 13 December 2017
Dear Helen Thank you for your kind haspitility during our stay. I've really enjoyed the morning run and our girls really love playing out here with all the animals and darling Bolt! We hope to return here some day again. All the best! Hazel and Family
18 November 2017 to 21 November 2017
Thank you so much for your warm welcome and kind hospitality. We have loved staying at Kepler Oaks and only wish we could have stayed longer. Enjoyed meeting your extended family. Loved Bolt and meeting the horses, and feeding the lambs. A first for me we appreciated all the local knowledge you gave us, booking the Milfrod Sound tickets, fresh bread everyday didn't expect that and delicious cakes to come back to, not forgetting the wine. Very many Thanks Paul & Janeet Norfolk UK
6 November 2017 to 9 November 2017
Dear Helen and family, The welcome was warm, so we felt immediately at home in Keplers Oak. The cottage is very nice, with a lot of space. The senery is great. We made trips to MIlford Sound (although it was a bit foggy and rainy) the glow worm caves and some beautiful hikings. Thank you for the delicious muffins, couristesy to you muffin man the feeding of the lambs and baking of our daily bread and for doing the dishes. Thank you for the delightful cople of days Lia
24 October 2017 to 27 October 2017
Dear Helen and Kiara We will thank you for staying in your cosy cottage. It was pleasant to be here with the beautiful surroundings, mountains with snow, but the most for your hospitality and the good breakfast and the fresh bread. We feel us so welcome. Pieter en Tonny from Holland Amsterdam
18 October 2017 to 21 October 2017
Thank you for all you have done to make us feel welcome and our stay a home. We have been struggling to find the words to express our appreciation & let us know how special this place & what you do is. We had looked for a place to stay in Te Anau and thought this Kepler Oaks Chalet would give the kids some time & space to roam & run around. Little did we know the stay would be a holiday in it self. A holiday & home all in one with the special touches of farm life & fresh produce. The chalet is homely with a lot of thought, consideration & special touches that make it truly memorable. The baked goods are delicious & we need to find a fridge that replemishes itself for home! WOW! the only sad part is that we will need to leave which will be just as hard on us as on the kids. Thank you for Everything Chris, Leonie, Nathan & Madeleine Plate
29 September 2017 to 29 September 2017
Dear Helen, Thank you for making our stay welcoming & comfortable. The children loved the animals. The freedom to let them roam the paddocks & grounds was exactly what we wanted for our second week in NZ. Regards Mal Sanchia, Scarlett & Ivy Magussen Gladstone, Qld Auctralia
11 September 2017 to 14 September 2017
Thank you for the wonderful stay Helen! We really appreciated the yummy baked goods, friendly chats, and of course the pony ride for our 21 month old daughter. This was our second stay and we hope it won't be the last! Cheers, Brendan, Tania & Family
11 August 2017 to 12 August 2017
Dear Helen Thank you for your kindness. We have a perfect day in your chalet. Everything is perfect such as the room, the view, the animals, especialy the dog Bolt is lovely. We would like to talk to your families and we are so happy that you like China too. We have had a great walks along this Kepler Track as you have give us very useful advise. Anyway. You are the best host when we come to NZ first time. Look forward to visit you again. We'll come back again in the next two years. We'd like to be a guider when you come to China one day! Thank you agin! Kind regards Xu and Song and Tommy
13 July 2017 to 16 July 2017
Dear Helen , We had such a great stay. The chalet is cosy and comfortable and we loved the views and having space around us. The Kids had such a fantastic time with the animals and exploring. Such a gift for tired parents. Should we ever be back in the area, we will be back. Thanks again, Holly, Joe
9 July 2017 to 11 July 2017
Thank you Helen & family for your wonderful hospitality. All three children said it was the best stay after 10 days of travel, they loved the horse ride & feeding the animals & felt very spoilt by your homemade cooking. Sam and I were very grateful for a beautifully kept Chalet! All the comforts of home. Your hospitality from Homemade bread to helping organise a trip to MIlford Sound was perfect. Thank you! Enoy your snow trip away. I hope you get a chance to relax. Regards Kelly Dickinson & Family
2 May 2017 to 3 May 2017
An excellent wonderful experience staying here. We would strongly recommend to others to stay here. Thank you so much for the lovely hospitality and we will surely come back in the future. Aaryon really enjoyed the pony ride. Cheers Puva, Paran, Aaryan Kuala Lumpur Malaysia
22 January 2017 to 23 January 2017
Helen, everything about our stay with you was nothing short of amazing. From the fresh bread and fam eggs on arrival to the butter and jam and fire prepared for us after dinner. Showing our kids what its like on the Ranch was incredible and the alpaca relocation preceeding a pong ride was absolutely fantastic! Memories in the making and experiences we'll never forget! Thank you for such an awesome tim. Our only regret is that we caouldn't stay longer. Next time! The Wrights Jess, Craig, Nora and Henry
13 January 2017 to 16 January 2017
Thank you Helen for a wonderful stay the fresh bread, cakes and eggs were a special touch that were greatly appreciated, and enjoyed! The kids had a ball with the animals and really loved the pony ride. Thanks for doing all our washing! We thoroughly enjoyed our stay and the beautiful location and views you have. Thank you for sharing it with us. The Hamilton family
7 December 2016 to 9 December 2016
Thanks for a most wonderful stay Kiwi hospitality and generosity at it's best. Thanks so much! Kim, Pau, Mia and Evie
25 November 2016 to 26 November 2016
Dear Helen Thanks a Mill for a lovely stay, the place was really comfy and homely and the most gorgeous aspect Bolt was just gorgeous, loved the curls on his ears. Thanks a mill Shane and Marco and Kids. PS home made bread and cookies was delicious.
20 November 2016 to 24 November 2016
Te Anau is the perfect starting point near the great Fiordland National Park. Although most of our stay was cloudy and rainy, we had a perfect day to visit Milford Sound. We encounterednatures beauty and had the priviledge to see dolphines joinging our boat trip. Stan enjoyed very much playing with Thomas, George and Harry. Thanks Lavila, Johan Stan
19 November 2016 to 20 November 2016
Dear Helen, David, Thomas, George and Harry "Chloe" from France. Thank you so much for your hospitally, friendship and all your help during our stay. Thanks for the special and precious dinner. We enjoyed time catch up with each of you. Harry thanks for special Pavlova dessert. Helen we appreciate you for taking us for a walk with your pony. It was such a memorable time for our kids and ourselves. Staying at your place is short but it's by far our happiest moment in NZ so far. Thanks for everything. We welcome you to Singapore and our home. We'd love to prepare lunch/dinner for you and family. Take care and hope to meet you soon!
17 November 2016 to 19 November 2016
Helen, Thank you for the wonderful birthday cake. I will not forget it ever. You are the best and a lovely time was had by the whole family. Shere, Tom
14 November 2016 to 17 November 2016
Helen, Our time with you has been revitalizine, bringing us back to our rural roots. The peace and quiet,. The scenery, the space we are delighted we found your slice of heaven. The time we spent conversing with you was priceless for us. The bread will help to fatten us up. Many Thanks for your time, attention and fellowship. Rick and Margaret
10 October 2016 to 11 October 2016
Dear Helen, Thank you so much for the lovely room and breakfast. We have a perfect night here. Will always remember the memory we have here. Hope you will bet a chance to visit Benjing some time. It is amazing as well. SunYue and her friends
5 October 2016 to 7 October 2016
Dear Helen and David. Many thaks for your lovely hospitality! We've spent an amazing and brand new holiday in your place. Especially for my newphew the chance to feed lambs, ride sweet horse excited him a lot. I actually love bolt so much, he is cute and willing to stay with us all day long. That made ours holiday even more perfect. BTW the hand made cookies and fresh daily bread are yummy. Thank you for all your thoughtful preparation! Looking forward to staying here in the furture. Jessie, Chang, Zue and Chang Chang
1 October 2016 to 3 October 2016
Thanks Helen and David for a fantastic stay. The kids loved the lambs. Thank you for the fresh baked bread and sweets. It's a beautiful place. We enjoyed our ride around by the lake. Thank you for booking our day rips. Really apprecicate it. Andrea and Luisa
18 March 2016 to 20 March 2016
Dear Helen Many Thanks for welcom! It's a perfect house and will be a perfect memory for us. Lovely Bolt, lovely sheeps and the very very old rabbit. Hope you will come to Shanghai. Let us know when you arrive. Jing Jing, Yao Yao, Qian Jin
19 February 2016 to 21 February 2016
Dear Helen and David, Your cottage is beautiful and the scenery spectacular we really wish we could stay longer. Our daughter sophia 18 months has enjoyed exploring the cottage and yard. She loves the rabbit and your dog the most. When holidaying with a toddler, you are most happy when they are and she has been delighted so thank you. We have felt very spoilt with the home made treats and your warm welcome. We will have happy holiday memories and hope to visit you again in the future. Thank you from Chantell, Reece and Sophia Brisbane, Australia
17 February 2016 to 19 February 2016
To Helen, David and the boys. Thank you for a great stay. Teh facilites are fantastic. The views are awesome. Coming from a big city, one forgets that the wonder of nature is just on the door step. The cakes, bread and eggs were greatly appreciated and were yummy! Thanks again for a great stay and if we are coming to this area again we would certanly wish to stay here.! June, Barbara, John and Andy Plymouth UK

10 February 2016 to 12 February 2016
Dear Helen A big thank you for your warm welcome. We had a wonderful and lovely stay. Everything was perfect. We love your fresh daily bread very much! Our son had a lot of fun with George. and my son liked your pony and sheeps. Kepler Oaks Chalet is a special place in our herts. Welcome to Tianjin china! Looking forward to staing here in the future. Lin Lu and Family
6 February 2016 to 8 February 2016
Dear Helen, Thomas. Thanks a lot for your accommodation. Your hospitality make us feel warmful outside of our country. especially during this chinese New Year. As for the house and facitities, you can imagine anything you nee. BTW the sky here is awesome. We enjoyed a plesent stay here with my family Thanks a lot. Yao
8 February 2016 to 10 February 2016
Dear helen Thanks for your warm welcome. The stary at your cottage left an indelible impression on me. The beautiful house the loved feeding the pony rides all these are special memory for our New Zealnd journey. Your advising help us easy arrange the Milford visit. Thank you agoin. Wishing you peace, joy and happiness throughout Monkey Year Yong Cheng Zhang
26 January 2016 to 28 January 2016
Dear Helen Thank you for a wonderful stay. We very much enjoyed our time here. We loved the fresh bread and wine. Thank you so much. All good wishes Jenny and Guy London and Devon
16 January 2016 to 18 January 2016
Thank you very much. This was just what we had dremed of, a lovely place whre kids and parents can have jun and relax. The kids, especially the little one, loved the animals and we're really grateful for your warm welcome. Auitlie, Donny
13 January 2016 to 14 January 2016
Dear Helen, David. Thank you for your great hospitality and we enjoyed a lot staying at your geogerous prepery. A lot of jun for my kids. It was a great pleasure and may our life come across again in the furure. Le me know whenever you find yourselves in Shanghai or any where else in China if you need any help All the best! Vincent
2 January 2016 to 4 January 2016
Thanks so much for your lovely hospitality and local knowledge. We had a very relaxing stay. Your fresh bread and cakes were delicious too. Bless you guys and thanks again. Brett and Rachel, Melbourne Australia
23 December 2015 to 30 December 2015
Dear Helen Thank you for your warm welcome on arrival, for your contant supply of home baked bread and other goodies, and for letting us stay in your lovely cottage. The quiet rural setting here was perfect for us we loved the dogs and farm animals and the fantastic views of distant mountains. The cottage was lovely and comfortable with plenty of hot water and good wifi!! The weather, of course could not have been better, and the position near Te Anau allowed us to take full advantage of nearby trips to Doubtful Sound, Milford Sound, the Kepler Track and Gow worm Caves. We have had a brilliant and unforgettable stay. Thank you and best wishes from Richard, Connie, Celia and Marc
12 December 2015 to 19 December 2015
Thank you for a fantastic stay! Thank you for delicious cookies, lovely bread and allowing the children to interact with your animals. What a fantastic place and superb view! Kind regards Frida with family.
9 December 2015 to 11 December 2015
Thank you so much for all the lovely special touches that added to our sedding day. We had a lovely relaxing stay your cottage was the perfect location for us! Very welcoming and loved the fresh bread. We had absolutely everthing we needed to make our wedding day perfect. Thank you! Rebecca and Dyland The newlyweds.
6 December 2015 to 9 December 2015
Thank you for sharing your knowledge of the area. Amazing to know Lord of the Rings movie was created in this area. Your cottage was a sonderful place to stay. The beds were very comfortable to sleep in. That is the most important about staying in a place. My children appreciate the time with your boys. Thank you for allowing my children to interact with the animals. That was wonderful. You made lovely bread. My daughter who does not eat sandwiches sure enjoyed your bread.
The service was outstanding and had the old world charm. Thank you for helping me make May's 40th very special. Dr Jeremy P Novak
5 December 2015 to 6 December 2015
Dear Helen Thank you avery much for a wonderful time here. We did think that you prepared so well for everything such as homewares, toys and foods. We had so perfect experience that we want to extend one more day, but unfornatelu ot's a;readu reserved. My dauther loges here and plays well with the rabbit. She said she will live here foreever, but we have to say good bye to rabbit and to your now. Hopefully see you next time. Best Regards Haizhau, Liaymui and Ziqi
4 December 2015 to 17 December 2015
The rides on Bonnie were great. Thomas did a good job. The dogs were great. Frances and Audrey hope you make friends with the alpacas. Service was great and so was the electric blanket Thanks Eric
28 November1 2015 to1 December 2015
Dear Helen, David and kids. Here I am sitting, with some yoghurt and bread. Watching a pink sky, still lear kky. Wether it is evening or morning, our stay at Kepler Oaks has been of differences too. Arriving with lots of wind, quite chilly even today having had dinner at the picnic table with 22oC was extreme compared to this morning departing to Milford Sounds with approx 2 oC. Thanks a lot for your hospitality, the horse riding feeding the animals and of course bread and chocolate birthday cake! For sure we will send some pictures and recommendations best regards Graeten , Sylca
23 November 2015 to 24 November 2015
Dear Helen and David and family Although our stay was far too short, we had a lovely night in the cottage. Thak you for the deliciour bread and baked fudge. Yum and Bolt for being such a friendly spaniel. Next time we'll make it a longer stay! Mike, Catherine, George and Thomas. Auckland
20 November 2015 to 23 November 2015
Thank you for all your delicios food. We also appreciated you driving us to Kepler Track trailhead. What a gre outing, we all enjoyed it. Our trip to Milford Sound was outstanding. Your place is so convenient to wonderful adventured. Helen what a special treat this was to stay at your beautiful home. Transporting us to Rainbow Bride to hie the kepler Track and your advice on Milford Sound made our visit so much easier. Your breakfast provisions were wonderful! You are a sweet hostess and this will be one of our life long memories of NZ. Renee and Greg Prescott USA
12 November 2015 to 19 November 2015
Thank you for your hospitality Helen. Lovely cottage and the surrounding is really beautiful. We had an enjoyable 2 days and my son loves the pony ride. Your fresh bread, muffins and cookies tastes superb. Overall the farm settting is really beautiful and my parents also love the 2 days stay. Penny and family
3 November 2015 to 6 November 2015
Thanks Helen for a wonderful stay we have enjoyed every moment. I will have to tear the girls away. Thank you for making thier first experience of New Zealand so wonderful. I am sure it will stay with them forever. I'll post some pics on our facebook page. It will be haard to choose, there have been so many fabulous moments. Thank you again. Mogan, Craig, Jaime and Alex Melbourne

18 October 2015 to 19 October 2015
Hi Helen and Family. Thank you for your time and effort. The warm welcome the beautiful house, the lovely pets and so many Chinese elements. Totally memorable! I'm sure that one day I would be here again. Please remeber me and my name. and if you will go to China let me bring you to find out awesome Chinese food. Thanks again. Best wishes yours Hu Wenbin
13 October 2015 to 15 October 2015
Dear Helen and your family. Thank you for your hospitality. We had a very pleasant holiday. Your warm and thoughtful care makes us feel at home. Your home and farm is very beautiful. Lets be crazy about it and it's almost not willing to leave. Your animals are alsovery cute, feeding them to us is a special novelty and a wonderful experience. We will not forget the wonderful experience here. Thank you very much! With best wishes. Zhu Chao
18 September 2015 to 21 September 2015
We will miss David, Helen, Thomas and friendly Goat, as well as naughty liffl lambs very much after we leave New Zealnd and are back to Georgetown. We enjoyed the breads and cakes made by Helen were so delicicious Allen and Ally
30 July 2015 to 2 august 2015
Thanks a lot for your kindness your cottage is really peacefull and cosy. We feel at home. Wifi free is also an appreciated complimntary. Bahia and us will keep a good remind of her stay here. Thanks to your animals to Kind regards Fred, Nanu, Louis, Bahia and David
4 August 2015 to 6 August 2015
Thank you for your hospitality, we had a wonderful time and felt very welcomed. Will definitily recommend this place to others. Cheers Michael
27 July 2015 to 28 July 2015
Dear Helen Thank you for your warm and lovely welcome, for your advices and help and everything that makes our stay in your wonderful cottage unforgetable. Annette, Gemthers & Timo
23 July 2015 to 27 July 2015
Thank you so much for a fantastic stay. Your hospitality was 5 star, from the fresh bread to the warm fire at night! We all enjoyed the wonderful horse/pony rides. Brayeden, Jessie and Toby will miss your boys and all the anials. They are already asking to come back next year. We are all looking forward to visiting Kepler Oaks again! Nicole, Peter, Brayden, Jessie and Toby Hudson Hong Kong

20 July 2015 to 23 July 2015
Dear Helen, thank you for the lovely stay. We really enjoyed our time here in Kepler oaks with all the horses the wonderful ride, Bolt and all the other animals. We will miss it and the fresh bread too. It's such a peaceful location here and we had a warm welcome here. Thanks Warm regards Tina & Wissau Sofie and Alena Germany
12 July 2015 to 17 July 2015
What a beautiful cottage! We have had a wonderful stay the kids loved feeding the animals and playing with the dogs, and we all enjoyed the warmth of the fire and lovely walks. The cottage is a fantastic place to relax and we really appreciated the extra treats (chocolate cake!!) that made us feel welcome. Thank you for sharing your chalet with us! We will take away many happy memories. Cameron Cayn Capian & Caelyn Mackay Bangkok, Thailand/USA
10 July 2015 to 12 July 2015
Dearest Helen, I must say this is the best farm stay ever! Sincerely from the bottom of our hearts. Thank you for the little thoughts of baking fresh bread and cakes for our daily breakfast. And make all our sons wishes come true! Tony riding and feeding of farm animals which are impossible to be done in Singapore. We'll be back again! Ben Liling and Joshua Singapore
7 July 2015 to 10 July 2015
Dear Helen and David, Thanks for a wonderful stay on your beautiful famlet. The cottage was cozy and comfy, the bread and treats were very yummy and Lara loved the animals especially the ride on Bonnie to the river a lasting memory for her and us Kathy Derek and Lara
29 June 2015 to 6 July 2015
Thank you Helen and David for a wonderful stay we had a fantastic time and are really sad to be leaving. The cottage was very comfortable, we loved the spa the baked goodies the excellent interaction with the animals, the lovely rides to the river with Bonnie. Thank you for booking our extra trips and for the fast and efficient service when booking onlin and during our stay. Thanks for trusting us with Gonnie. Loved it thank you & would love to come back. Also great facilities for the kids. The small thing like the thermos and sharp knives were also appreciated. Thanks Natasha and Luke
24 June 2015 to 25 June 2015
Thank you for letting us stay in your beautiful cottage, we loved the fresh bread and jam and were kept warm by the fire. We love the view towards the maintains and the stars at night. We hope to come back for a longer stay some time. Kind regards Luke and Kathleen
19 June2015 to 21 June 2015
Thanks for the great stay on this cool weekend. We had a lovely stay in the cottage and enjoyed all the home treats provided. Thanks for having us. Gary , Kim, Martin and Shaurn
18 June to 19 June 2015
Dear Helen Thanks for the accomdation and advice for the sound cruise for me. It's ralyy so nice of you. Hope one day you will come to China with your husbankd and three boys, you will definitely find different experience there. Gonna come back with my baby soon. Sabrina
12 June 2015 to 14 June 2015
Coming back each time to a warm chalet that was cleaned and tidy was a real plus. We thoroughly enjoyed the daily supply of cakes, freshly baked bread, eggs and fruits. Seeing the milky way above our chalet was really special, together with the Milford Sound cruise.
9 June 2015 to 11 June 2015
Dear Helen and family, Thank you so much for the warm and open welcome. Thank you for the fresh bread (delicious, delicious, delicious!), fresh eggs, milk and home baked goodies- your chocolate cake is to die for! We really loved your cozy cabin/cattage: roaring fire-stove (so useful in this famous Fiordland weather), complete with everything that we need away from home. 2 days passed by so quickly: We wish we have more time to get to know your cute sheep, goat sebastion. Play with super friendly, sweet Bolt and your ponies. Hope to return with our maily. To this special place under the Milky Way. We wish you all the best for you upcoming trip to Singapore!Cheers Nura Aidan & Family
4 June 2015 to 7 June 2015
We really enjoyed our time at Kepler Oaks. From the coxy cottage heated by fireplace to daily baked bread and biscuits. Yum! Thanks Helen for showing us around your neighbourhood. Our girls will not forget you and your pets Bonnie, Bolt and Sebastion. Best of luck to you, David, Thomas, George and Harry. Brett, Lilran, Hanna, Kylie Markay Payne Gold Coast Australia Mao and Li Shanghai China
2 June 2015 to 3 June 2015
Dear Helen and Family Thank you for sharing your beautiful chalet with us! The hospitality and kindness we received were incredibly genuous and very thoughtful. Our 10km Kepler walk and excellent dinner in town ere special highlights. The homemade continental breakfast and snacks were delicious. We will always think fondly of this uniquely beautiful part of New Zealand! Again, thank you so much! Our time here was eceptional! And please give Bolt a hug and a kiss from us he instantly capured our hearts! With endearing gratitude, Aaron and Callie Schlicht Wisconsin USA John and Katerine Tute Adam Schlicht
29 May 2015 to 1 June 2015
A fantastic way to celebrate our 37th wedding anniversary. Great host. It's the little touches like having the fire on when we return from our day out and the place filled with the yummy smell of freshly baked bread. Thank you Helen- we will be back! Jenny and Errol McNulty Mosgiel
22 May 2015 to 23 May 2015
Our short stay felt like home. Thank you Helen for being a wonderful host and for the freshly baked bread. Awesome location log fire was a treat will recommend you chalet to others. Kennedy, Susan and Jarren Pehi-Weha
20 May 2015 to 22 May 2015
Dear Helen Thank you so much for all of the hospitality during our stay here. We loved staying at your cottage for our honeymoon. The bread, firplace, Bolt thank you for making this part of our trip so lovely Chris and Rachel
16 May 2015 to 17 May 2015
Dear Helen. Thank you so much for the lovely stay. The house is very warm and beautiful. The night in your cottage will be the special memory of our honeymoon. thanks for your lovely chocolate too. We will take much more time here next time. Thanks for all the theings you did for us. Here is a little gift for you. It's about chinese handwriting. We hope you will like it. Ruin Huang & Shaugivei
13 May 2015 to 14 May 2015
Thanks for the kindness and hospitality of the host and hostess. We have wonderful time here and feel like a home Cheers. Hope you have a good time. Kind regards. Yilin & family.
8 May 2015 to 12 May 2015
Alona Helen and David. Many thanks for our stay here in te Anau. This cozy cabin made our visit most pleasant considering the soggy weather. We always returned to the fire well stoked. Your baked goods are yummy as well. We enjoyed the changing visitas surrounding the chalet - even with the rainy weather it's been beautiful. We were lucky to get a rain break and head out to Milford when we enjoyed a calm cuise and wonderful visita. As we depart tommorrow we will look back to our stay here as a special peaceful ending to our New Zealand adventure. Thank and uch Aloha Cate John form Maui Hawai.
7 May 2015 to 8 May 2015
Bolt is a clever dog. Heres always sitting outdoor, that make us feel safe. The bread you prepared taste well. Our first choice if back to Te Anau next time.
6 May 2015 to 7 May 2015
Hi Helen We very much enjoyed our short stay here. We are blown away by the beauty of this place and are so grateful for your hospitality. We are so glad we stayed in your chalet. Much Thanks Josh & Kristiana VanGeest Sydney
4 May 2015 to 5 May 2015
This is very New Zealand. Very specialty wxperience for us. We love your farm. Your sheep and horse. Your lovely dog and alpaca. I must give a special thanks for your breakfast which really surprised us. All my family enjoy the bread and cakes. And they all think this hotel is very good and you are so kind. If we are not in hurry we can stay here for more time to stay with you and your animal. The bread is very good. From Chaina Zhang, Lio, in & Qiu
1 May 2015 to 3 May 2015
Thank you for hosting us in your beautiful house we were privalage to call home for two nights. Have to say its not enough. Your warm hospitality and willingness to share gave us a very truthful trip to MIlford Sound. Will definately return to stay again and try out all your farm activities. Your freshly baked breads are awesome. Thak you Jonathan & Jaslin & Xantuus Many blisstal year ahead
27 April 2015 to 29 April 2015
Thank you so much for offer us such warm and sweet home. I really want to stay here longer and loner. Your Dod is very cute and guide us to our room. My parents love your home very much as well. Everything make us happy and warm. I would like to share with my friend about my experience here. Thanks again, and Best wishes. Wu Dilu
16 April 2015 to 19 April 2015
Dear Helen Had a lovely stay in your comty cottage. Fantastic views all round. Thank you for taking Julia riding. It was an unforgetable experience as she has never ridden a trotter before. Bolt was good company just like being at home with my dogs. Thanks for your hospitality. Jeanette and Julia Sydeny Australia
22 April 2015 to 23 April 2015
This is lovely house. We care very happy to live here. Saw the sky full of stars.
14 April 2015 to 16 April 2015
Very Cosy house and fantastic rooms that had views of the farm we really loved the freshly baked bread given everyday. Delicious. Great fireplace too. Kept us nice and warm. Wnjoyed being so close to the animals too. Thanks for your warm hospitality Helen Loved the dogs alot Ho Family Singapore
9 April 2015 to 12 April 2015
Dear Helen Thank you for your lovely hospitality. It was extremely warm and cosy. Your baking was delicious. Our family enjoyed our stay. My daughter loved the pony rides. Thanks again. Sparagis Family
4 April 2015 to 6 April 2015
Dear Helen Thank you for your warm welcome in fact all your help and tips before we een arrived. We loved relaxing in your chalet, taking in the vies and seeing the kids enjoy the animals. A very cozy stay. Hope to return Vaniua and Aik Raivadera Maya, Lili and Isi
8 April 2015 to 9 April 2015
Dear Helen. Thank you for providing us with a very special expereence in New Zealand and letting us to know your family and your daily life. These are all fresh and attractive to us. Beoutiful cottage and wonderful sightseeings outside, delicious fresh homemade bread my mom does really like it clever dogs, cute alpacas, rabbit and goat. Lovely children especially a little boy run and came to help us open your door and a little girl flollowed, big warm welcome imprssive. I will surely come here if I can come to New Zealand next time Sheaguan Shang, Yingging Shaug and Yauxia Wang From China
6 April 2015 to 8 April 2015
Thanks for the lovely stay it was absolutely perfect. Orla has loved running around with the dogs and Iris has adored the toybox. Swing has been a massive hit. location has been ideal. Views are stunning. The home baking most welcome. Will defunately be back and will recommend to everyone we know. Thanks for the pony ride girls will be talking about Bonnie for ages. Deb Ross orla and ivis Melbourne
31 March 2015 to 1 April 2015
Thank you so much for your warm welcome, yummy bread and time spent with us and your farm. We love your doggies, pony and 2 horses very much. May God Bless you and family always Caroline
29 March 2015 to 31 March 2015
Dear Helen Thank you very much for the wonderful stay in your chalet. We loved the quite enviroment, the aniamls, the toys for our son, and definately your caramel baking. Thomas, Evelien, Timo and Elin
28 March 2015 to 29 March 2015
Dear Helen This is our first time to Te Anau and we live in your stunning house. We enjoy it and we love your dogs and animals. Best wishes for you family and I promice that we'll come back int he future. See you then. Han & Yauen from China
25 March 2015 to 27 March 2015
Thank you Helen for a wonderful stay. My Family had an awesome time. My girls expecially enjoyed playing with all the animals. Although she didn't get to ride Ringo, he was Kyndalls favourite. They loved the dogs, playing with Blue, Sabastian and Hinio. They both loved Rhino. Kay is demanding a guinea pid named Rhino LOL. The chalet was very comforable. Very much like being at home. Thanks again. Will send Pics of Kyndall and the alpacas. Broussards
24 March 2015 to 25 March 2015
Beautiful location. Thank you very much for sharing your farm. What a fantastic place. John, Lory Wigate
22 March 2015 to 23 March 2015
Dear Helen Thanks for your sweetie behavior. The fresh bread is so delicious. The warm of the room give us a hot welcome. This is the frist time for my son to ride the pony. It's a good experience for him. The circumstance you afford is so comfortable. We enjoy ourself so much Love your B & B welcome to China Fanny Wang hairong Wu
18 March 2015 to 20 March 2015
Thank you for being such a gracious host. We thoroughly enjoyed our time in Te Anau and specificaly at the Kepler Oaks Chalet. It was perfect for our last 2 days of our honeymoon retreat in New Zealand. We loved the cozy feel plentitude of animals and the extra special touches fresh juice, jam ,bread and desserts. Thanks again Caitlin & Jorand Madison USA
9 March 2015 to 10 March 2015
Dear Helen and family, Thank you for our nice and beautiful stay here. The bread was delicious, like the eggs and marmelade we slept fantastic in this cottage with a nice surprise as the dog lay in the front of the door. Looking forward to staying here in the future. Dick and Jessica, Andreas and Ingrid
5 March 2015 to 9 March 2015
We had a wonderful time very relaxing. Thanks for the wonderful bread and cakes. Eggs tasted amazing. Great set up here with the peace and all the animals to say hellos to. You have been a great host. If we come back we would want to stay here again. Te Anau and the Sounds were good too! Sue, Colin and Les
27 February 2015 to 1 March 2015
Thank you very much for this amazing stay. We love the farm, the pony, sheep and expecaily Bolt. Your family are so kind and helpful. We do enjoy every minute here. These days are the best part of our vacation in NZ Jang Wei Done
22 February 2015 to 24 February
Very interesting. Helen is very kindly she's family are very nice. I hope see you again.
20 February 2015 to 22 February 2015
Helen we had a wonderful stay at your cottage. Thank you so much for letting us feed the lambs. That was a first. Your an amazing host. The eggs, bread, desserts and hospitality were delightful. All of your recommendations (including suggestions when it comes to bringing a sweater- ha ha) were great. You and your family are so sweet and we are very lucky your cottage was available. We will be back! Thank you for adding more amazing memories on our New Zealand trip it means a lot. Love Mike and Lauren Wakewiez San Diedo, CA
18 February 2015 to 20 February 2015
Thank you so much for you hospitality our family spent here a happy New Year. My English is not very good. Can not fully express our gratitude. Very fond of this beautiful farm. Thank you. Xiuo Yue Li
6 February 2015 to 9 February 2015
We have been blessed to had the opportunity to meet you both and share your little slice of Heaven. This is exactly our type of place with the surrounding beauty, pets, kids and all. We have litening to your accents and appologize for haveing to ask you to repeat. Looking forward to seeing you next time. Dave Crystal Lorrie Deb
12 February 2015 to 15 February 2015
What a warm welcome we got from you, Heln on our voucher it is mentioned as self-catering, but with all your daily food supplies you can ardly call it that. Thanks for all your caring attention and thanks for our daily afternoon-chat and thanks for all the thoughts you shared with us. Have a good life with your family greetings from the Dutch walking ladies
5 February 2015 to 6 February 2015
Dear Helen Thanks for every thing & hospitality. It was amazing expecially the fresh bread and cookies. Everything was perfect and hope to see you agin. Paul
3 February 2015 to 5 February 2015
Dear Helen Thank you very much for everything you have done for us. Acutually we enjoyed Te Anau Cave and Milford Sound, and expecilly we enjoyed this lovely stay. How cute your lovely dog horse and sheeps Thank you so much Best regard From Suzuki Family
31 January 2015 to 3 February 2015
Thank you Helen, David ,Thomas,George and harry. Staying here was one of the highlights of our time here in NZ. We thank you for your hospitality and especially the fresh baked bread. Darren's birthday cake we will be recommending you special accommodation to all of our friends in Aus. Thank you Darren, Daren, Jayden and Kathyn
27 January 2015 to 31 January 2015
Dear Helen and David, Thanks so much for a lovely stay at Kepler Oaks. It was perfect for Lucy at 16 months and although she tested Bolt he was incredibly good with her. We can tell Lucy when she is older how her first ride on a pony was here. We were very well looked after during our stay with yummy bread, fresh eggs and other baked goodies. Gorgeous scenery and fresh mountain air, New Zeland was a great choice for our holiday at this time of Year Best, Simon, Nikki and Lucy
23 January 2015 to 25 January 2015
Dear Helen, it was a pleasure for us to stay at Kepler Oaks. We enjoyed the fantastic vies, the calmness, bird inging and overall your wonderful baked bread! Thank you for everything your tips regarding Milford Sound and where to stop. It is breath taking here in fiordland. Kind regards Anke and Charly
20 January 2015 to 23 January 2015
Dear Helen We would like to say a huge thank you to you and your family for making our stay here very enjoyable and memorable. Even though our kids are a little older they really enjoyed the animals, feeding the lambs and riding the horses. You live in a very special place! We will put some photos on facebook and like your page and wish you all the best in the future. We had a lovely stay at the chalet this Summer. It was very relaxing. It is a very peaceful location and a great place to stay and explore further into Milford Sound for fantasticsight seeing and hiking. Highly recommended! Thanks Helen and family from the Curlewis family, Auckland.Warmest regards Claire, Andrew, Connor, Adam and Freya
18 January 2015 to 20 January 2015
To Helen and Family, Relax and enjoy- we sure did! Everything about our stay was so wonderful, coxy beds, beautiful views, yummy food, friendly aniamals and of course most welcoming and helpful hosts. It was exactly what we needed afer a ong journey and the view of the mountains made us feel really lucky and privaliged. Thanks heaps! and good luck on the Kepler!
13 January 2015 to 15 January 2015
Dear Helen, Thank you for your kind hospitality and making us very welcome. We enjoyed the stay and especially the visits from Bolt. Will miss the homemade bread & cakes! the short walks along the way to Milford were lovely thanks for the recommendations. Best Wishes Gordon, Sonya and Enime
9 January 2015 to 13 January 2015
Dear Helen, David , boys, Bolt and animals, Thank you very much for making our stay in Te Anau expecially memorable. Although we'd read about the chalet before our stay, still we could not help but be pleasantly surprised by your generous hospitality. Your lifestyle, friendliness, trust and sincerity is inspiring. We wish you all the very best for the future and hope to see you again. God bless Aaron, Jim, Fred and Mum Auckland
3 January 2015 to 4 January 2015
We loved our stay here! The home baking is a very generous touch-we loved it! we'll definitely try to get back as soon as we can. Thank you for all of your hospitality and sharing your enthusiasm for animals with our little Lucy. Thank you so much! What a wonderful stay. It is beautiful, comforable, genenously supplied, would have loved the wine if there weren't little ones, the animals ar fabulous. Thank you again! Kisti
4 January 2015 to 9 January 2015
I loved feeding the animals and I realy loved playing with Thomas, George and Harry and most of all the horse riding. Thank you so much for the lovely stay! We really felt like we were at home. Hopefully till in the near future. Thanks again Love from Matthew, Nathan, Sam, John and Charlotte
30 December 2014 to 1 January 2015
Dear Helen and Family. Thank you very much for your warm welcome. Your lovely cottage is the best accommodation for our trip. We really loved everything. We do live in big city which there's lot of traffic jams and people usually in rush all the time. When we arrived here, we could feel that this is the place where we're looking for our vacation. I really enjoyed the moment when you let me feed your lambs. They are so cute. many thanks once agin for everything,especially hospitality. Wish you and your family all the best for 2015 Pi my parents from Bangkok, Thailand
28 December 2014 to 30 December 2014
Dear Helen, Thank you for awesome 2 days! After walking Milford Track coming into your cottage was just like coming to paradise. We all loved the breakfast and Mum and I enjoyed that horse ride so much. We will miss the eiews of the mountains and the extremely cute alpacas. It was just amazing to sit on the terrace and play with those gorgeous dogs! We would really like to stay longer. Erika, Walfraud, Carlo and Kira Frankfeert, Germany
19 December and 23 December 2014 to 27 December 2014
Dear Helen, David, Thomas, George, Harry & Family. This truly is a wonderful paradise- where new friendships are made and where magical family time happens. We have had such a wonderful time here surrounded by your wonderful and amazing hospitality and friendship. Each amazing morning started a beautiful day. We loved the fresh bread & eggs & Jam & fruit & juice & gorgeous views & wonderful experiences. Our kids loved the horseback riding, and our daughter will always treasure feeding the lambs. Kepler Oaks has truly felt like our home away from home, and we will forwver rember the AWESOME christmas holiday we spent with you all. Thank you for helping make our holiday so spectacular and brilliant! We most definitely look forward to our return here some day. We are so blessed to have found such a wonderful freiendship! We loved our Christmas tree to! With much love, many hugs, in great friendship Ave, Bruce, Cormack and Keeleen, William
20 December 2015 to 23 December 2015
Dear Helen and Family. Thank you very much for our lovely stay at your cottage. We loved the fresh bread, eggs of your own chickens, the milk and orange joice. Our children Willenb (3 yrs old) and Esma (2 yrs old) enjoyed the pony riding, the feeding of the lambs, getting eggs out of the chicken house and the box with all the toys in the cottage. We are sure that the potty will help Esmee to learn to go to the toilet! The surrounding of you cottage is peachfull, everywhere you look there are spendit views! also there are many nice activities to do we went to Milford Sound and walked a part of the kepler track. We will recommend you cottage to everyone we meet! Jop Chartje Willey Esmee The Nettherlands
15 December 2015 to 17 December 2015
It was a lovely family oriented location. Everything we needed was here when we arrived and you went above and beyond when you arrived home. Thanks for making our stay so enjoyable and memorable. Nader
8 December 2014 to 10 December 2014
Dear Helen & David We had a lovely stay in your delightful cottage. The weather has been perfect. Michael and I enjoyed the horse ride and sharing in the local knowledge. We enjoyed a lovely dinner in Te Anau @ the Italian restaurant. it was lovely arriving home and discovering fresh bread, more eggs and some beautiful slice yum. Today we had a wonderful 5hr trek in the beautiful forrest along the Kepler track - magic. Its been lovely talking with you Helen thank you for sharing your part of the land, horses and most importantly family. Look forward to meeting again in the future. From Paul, Elizabeth, Grace and Michael
26 November 2014 to 28 Nobember 2014
Dear Helen, We felt very welcome and we enjoyed our stay here, the cottage is an amazing place to stay with all the lovely details, great views and the calm surroundings. Thanks flor the hospitality, the brilliant local food and for the lamb feeding which we'll never forget! Looking forward to make it all the way to your place agin Liun and Sabastian Germany
28 November 2014 to 3 December 2014
Wonderful stay! We loved everything about it the location was perfect. The details did not go unnoticed. Thank you so much for all of the bread, treats, eggs, juice, etc You made this a ;lace to remember for sure. Thank you Meredith
24 November 2014 to 25 November 2014
Dear Helen Thank you so much for our lovely stay here! Nice chalet, nice view, nice breakfasta and fantasic stars. We will come with our child next time Thank you Kota Ema
22 November 2014 to 24 November 2014
Dear Helen, David, the boys and dogs. Mamy thanks for your superb hospitality during our brief stay in Te anau. It was a shame we didn't get to meet you all, but a great excuce to return! Thankfully the sun shone and we were able to se the mountains and Milford at its best! All the treats were excellent and thouroughly enjoyed-yummy! Till next time the other simon and Sandy UK
21 November 2014 to 22 November 2014
Dear helen Thank you so much for hosting me and my husband. We love in nature. The place is here is so nice, we're happy to stay here. It's our honeymoon! I appreciate it Fiumiko Tanaka from Japan
17 November 2014 to 20 November 2014
Thank you soooo much for a wonderful stay. Yours hospitality was quite exceptional. We loved everything about your place Warm and cozy and great food. You have a lovely family and the farm is fun to watch. Thanks again. We loved it! Thank you so much for a wonderful stay. We're pround to have a friend in Te Anau, Steven Maurine Oconnar Madison USA John Gloria Etther Wisconsin USA
16 November 2014 to 17 November 2014
Dear helen so tired chilled to the bone after an advenurous hike through on over the Milford Track and what a wonderful warm welcome when we arrived on your doorstep.. Warm fire wide smiale and another First feeding the lambs1 We awoke refreshed after a first good nights sleep in days raving about the comfy beds and wxquisite sunrise. Breakfast was divine fresh eggs, bread jam & juice still cozy drinking in the view. We on wish we had more time! and more room in our bellies for the beautiful baking too. Thank you from the middle earth mothers Pallas, Ellie, Ange Anne Man from Wellington
11 November 2014 to 13 November 2014
Dear Helen, Where do we star... What a wonderful place, we could rest and unwind after a day of travelling thanks for our welcome and the warmth from the blazing fire. Your baking and local produce and supplies topped it off. We have enjoyed every minute of our time here. Very much a pity that we were not able to stay for longer and eat more of your deliciour fresh bread. The views are astonishing, expecially as the mountains did show themselves and were capped with snow making a magical stay even more magical. Helen thank you for everything you are a brilliant hostess. If we are ever fortunate enough to venture to NZ again we will be back to kepler Oaks chalet. With thanks and very best wishes Maica, Gary and Marian Leader Yorkshire England
7 November 2014 to 10 November2014
Dear Helen Thank you for all the good tips you gave us. Thanks for your wonderfull bakery wyour kindness and just everthing. We hcave never realy stayed in a place thats so great. We realy feel at home even more than that. We give all of this a special place in our memory's Feeding the lambs was also very special. When we ever come bakc to NZ we will come back here and we hope that's gona happen Jeanette and Rob Holland Best wished to you and your family
6 November 2014 to 7 November 2014
She is very friendly, my English is not very well so I can't talk about with her next time I learn English very well we will talking. See you next time. Thank you very much Next time I will bring my husband and parents to come here thank you Jiali Xiao
5 November 2014 to 6 November 2014
Thank you Helene for arranging our trips to Milford Sound and the glow worm caves. We had an enjoyable time especially at the underwater Discovery Centre. Your cottage is located at a convenient place its picture perfect and well equiped. The chocolate slices were heavenly and the fresh bread was hot and crusty. We also enjoyed feeding the lambs and playing with Bolt. Janet enjoyed practicing golf with George. Wishing you all the Best From Janet, Susannne, Cecilia Angelia Karen Singapore and Malaysia
31 October 2014 to 1 November 2014
Dear Helen Thank you very much for your host last night. It was the best night of my family in New Zealand and I believe when I come again I will stay here for longer time to ensure my daughter make good friends with all the animals, especally Bolt. Everything was good last night and our stay was abolutely perfect! Thanks a lot again. Nice to meet you and Thomas and looking forward to meeting you again in China some day. Jingbo Pan
28 October 2014 to 30 October 2014
Dear Helen & David, we had a lovely two night stay in this little cottage. It was warm and cozy and a welcome retreat after our trip to Milford Sound which was just fabulous and an inspiring trip. Bolt welcomed us anytime we had food and we happily included him. It certainly is God's back barden around here and we loved your hospitality! Thanks Helen and David, the morning view to the mountains was amazing, lovely warm fire and very welcoming atmosphere. The perfect distance from town for a beautiful stay. Thanks Grant
24 October 2014 to 26 October 2014
Thankyou Helen, David,George, Thomas, Harry . We had a wonderful time on your beautiful far, such a cosy cottage. Our dream is to set up a mimilar thing on our organic farm in the Southern Highlands in the near future and staying here has inspired us even more. Maybe you could come visit us in Australia and we can return you kind warm hospitality Happy Birthday to your boys Caren, Aaron, Olive
20 October 2014 to 22 October 2014
Thanks so much for having us and for all your help and advice! We had a lovely stay here on your property. Kind regards, Obi & Sharna
19 October 2014 to 20 October
What an amazing experience! Lovely doesn't even begin to cover it not do it justice. Thank you for the delicious bread & ja and the warm fire. We enjoyed every moment of our time here and will long remember soaking in the terrific mountain views. We also really appreciated Bolts company since the only thing we've been missing about home is our dogs. We would highly reccomment Kepler Oaks Chalet to anybody we know heading out this way. It was the perfect way to spend an evening of our honeymoon Best regards Bailey & Pete Shooner Athens USA
6 October 2014 to 7 October
We had a great, cozy, warm and relaxing time here a highlight of our holiday. Feel a bit bad to come in the dark and have to go that early. Never mind, we'll probable come and visit you again! Thank you for alll your arrangements. Very tasty fresh bread from you! It makes me motivated to bake too. All the best wishes from us and see you next time! Chen
4 October 2014 to 6 October 2014
Dear Helen & Family Harry & George. Thank you so much for the fun you gave us in a rainy day we stayed in your cozy cottage. We love the pony, Bolt, food and every thing here. Zhaorui Ding Family
3 October 2014 to 4 October 2014
Dear Helen, Thanks for sharing your lovely chalet with our family, my son & daughter Kyson & Kyrene, my mum Maggie who got to ride on a horse (Man) for the very first time in our lives. My son love feeding the baby lamb and playing with toys and the sand! Thank God for the lovely snow in the morning and the pony rides with the kids & feeding the baby lambs. We love to return again! May the Lord bless you and keep you Our Love In His Love June , Yap Kyson Kyrene & Maggie from Singapore and Malaysia
2 October 2014 to 3 October 2014
Hi Helen Thank you for your great hospiltaty very lovely place to stay we enjoy the view the bread and everything. Thank you Jennifer, Vicky From Melbourne & Beijing
18 September 2014 to 23 September 2014
Helen and David we thank you for these lovely 5 days we spent here. Each day we enjoyed a differnet walk in the bush. Helen's advoces were helpful for us to plan one day after the other. You live in paradise. Thanks for sharing it with us. We wish you and the boys all the best. Great stay with great people. Helen and David are caring hosts. Thank you for sharing your piece of land with us. Walks around the national park are beautiful and envagoiating. Te Anau is a very nice town. Luciana
15 September 2014 to 17 September 2014
Thank you very much for your hospitality. We had a wonderful stay on the cottage and are leaving with a lot of good memorises. The cottage is very comfortable and we enjoyed the wonderful baking you provided us. I love the house and the horse Adgelina. Thank you once again for such a good stay Mirand family
8 September 2014 to 10 September 2014
To Helen & David Thank you for letting us stay in your beautiful cottage. I loved playing with the animals. I also love your fresh bread and teats. Dylan To Helen * David Thank you for letting us stay. I really liked the pony ride and feeding the sheep. I also liked the fresh warm bread you sent us I also liked the lamb she keep sucking my finger. I wih I could stay but were of to Milford Sound and goin on a cruise from Maya Australia
6 September 2014 to 8 September 2014
Thank you so much for your kind hospitality. We felt like Kepler Oaks was home away from home. Loved the fresh bread baked daily and felt Helen went the extra mile to keep us comfy. The bed was so comfortable and the views amazing. Ideal place to enjoy our honeymoon. Thank you once again and would highly recommend kepler Oaks to Friends and family. All the best with the new horse! Amy & Tim Australia
4 September 2014 to 5 Sepbember 2014
When you take the time to step back and ponder on fife and some of it's intricacies, you may just discover that life is made up of moments and each person experiences each moment on their own. However on our journey's we encounter different people and differendt places be it brief or long, which leads us to gauge those moments in our lives's. Although this brief encounter was short it was none the less beautiful and amazing, we would love to thank you's for your hospitality whcih in our hearts and mind went over and above. Thank you's ver much from the Hodgetts Family
1 September 2014 to 4 September 2014
Great Hosts in a beautiful part of the world. Our Kios has a great time with Thomas, George and Harry- Thanks boys for geing great hosts to our kids. Helen, Thanks for the Fresh Baked breads, cakes and slices. Your friendly hospitality is appreciated Best wishes Luke, Antoinette, Havey & Jophie Brisbane Austraila
29 August 2014 to 31 August 2014
Hi Helen, Thank you so much for the delightful stay. It was our home away from home. The warm fire each nigt & fresh bread was a greatly appreciated touch. Warm regards Cate
24 August 2014 to 26 August 2014
Comfortable cottage in serene setting. Greeat tips given for local highlights by Helen & David Belinda & Robert Sydney
12 August 2014 to 13 August
Dear Helen It is great experience to stay here it's really like our home and my daughter love the cottage very much. We wish we can stay here longer. We'll definetely come here again. Thank you Landis Liang
30 July 2014 to 31 July 2014
Thank's Helen, for your warm welcome. The bread is the one in the world. Delicious. The first time we came here at night we could'nt see anything, but the place very beautiful in the morning. We are surprised about Jerry. Hahaha He is a lovely dog that we'll miss. Once again thanks for everything. God Bless you and your family Best regards Untung, Roy Edsen Fenny from Indonesia
28 July 2014 to 30 July 2014
First we want to extend our thankfulness to Helen & family. May God bless You & your family. Well you have a beautiful place and we love it very much. We feel warm at your cottage especially your fresh bread and fresh juice. Anyway We feel greatfull stay at your place such a green green grass of home (familiar with the Song?) little house on the prairie (familiar with the title) Last we once again to say a BIG TJANK to you and would like to come back again. Take care and may God be upon you and your family always Tan Enj Yan & Family
22 July 2014 to 24 July 2014
Dear Helen We wanted to stay love whole scenery. Doubtfull Sound was worth the money for sure. Thank you ever Ellen Pin
1 July 2014 to 4 July 2014
To Helen & David thank you for the first dump of snow on our first morning here. It changed the place into a wonderland of snow. Willow made her first ever snowman and loved to play with Bolt. As for the adults the set up of your cottage is most relaxing and comfortable we have been to Te Anau before but this has been the best. We thank you for your Kindness and will definately tell all our friends Luke Sara Willow Dianne Syd Guidford
28 June 2014 to 1 July 2014
Thank you so much for such a wonderful few days. The chalet is just wonderful and of course, the surroundings are so beautiful. You have a real gift for hospitality and baking! which, was very much appreciated Thank you Rachel, Tim Henry and Toby Auckland
17 June 2014 to 19 June 2014
Dear Helen, Thank you so much for the warm hospitality. It was such a privilege staying in this beautiful place. A special thanks to your boys for being such wonderful hosts. My kids really love the experience. I wish I could stay here longer. I will surely recommend this place to my friends and family. Till we meet agian. Billions of thanks Siti & Jeffery Danish Danial Singapore
14 June 2014 to 16 June 2014
Thanks for the delicious cakes & freshly baked bread! Nothing like it! Too short, but we had a wonderful time. Anisa Bhettay
9 June 2014 to 11 June 2014
Helen, Thanks much indeed for making our stay here simply wonderful - a home awayfrom home. Thanks for going an extra mile, which left an imprssion in us and makes this holday so memorable with best wishes, helen Many thanks for the hospitality and lovely kiwi experience, we have stayed at a few farm stys but this is by far the best. The kids thoughly enjoyed the horse riding and we look forward to coming back in the summer Best Wishes Boon
4 June 2014 to 8 June 2014
Dear Helen, David and Boys Thank you so much for you wonderful hospitality. Your homemade treats were delicious and it was so nice to return to the lovely warm chalet at the end of each day. Thank you for the delicious pavlova, Harry! Our Charlotte had a ball playing with the animals and especially loved Bonnie & Bolt. You live in such a special part of the world, we would love to stay in the chalet again. Warm wishes peter, Leisa, Charlotte & Patrick Vincent Brisbane, Australia
22 May 2014 to 23 May 2014
Dear Helen Thanks for your warm reception. We have a wonderful day in here and good memory. Hope we'll been here again. Regards Katherine Guo Rui Guo Qiao
19 May 2014 to 21 May 2014
Dear Helen & Family We had a wonderful stay at kepler Oaks Chalet despite the rain! Thank you for all the delicious goodies to eat and for taking such good care of us. The rain finally stopped for our last day and we had a lovely walk along the river- thanks for the recommendation. The kids have loved playing with your boys and meeting all the animals. We particulary fell in love with Bolt- Zac said he was the best dog he'd ever met! Jim Emma, Millie & Zac Bean London UK
18 May 2014 to 19 May 2014
Enjoyed your comfortable, well equipped cottage in pleasant surroundings, very quiet and restful. Thanks for the delicious bread and cakes. Marshall & Diane NSW Austrailia
12 May 2014 to 16 May 2014
Many Many thanks to Helen and David and Thomas George and Harry. You are so warmful. So friendly, so helpful. Thank you all for looking after us so well. Aslo hope you all have a chance to come to our Shen Zhen home Helen Tom and Matt
8 May 2014 to 9 May 2014
Dear Helen This is indeed a cozy house. We feel so warmful the second enter the house. Your hospitality is also ver impressed. You are so to give us so many good advices & tips. It indeed helps us a lot. We only feel so sorry that we cannot stay more nights here to enjoy more. As a foreigner, this is the greatest house to experience NZ life. Really appreciate to have this chance to stay at here and wish we get time to come back again in the future. Best Regards to you and your family Li Feng Chang
30 April 2014 to 2 May 2014
A very pleasant stay with quiet surrounding and lots of farm space and in in the future. Li Toh
28 April 2014 to 30 April 2014
Thank you Helen for the lovely stay! We spent 3 relaxing days in Te Anau. The place is amazing and the chalet as well. With best wishes Lalande Family France
23 April 2014 to 24 April 2014
Dear Helen and family, Many thanks for your hospitality. We had a wonderful time staying here. Hopefully we see you again some time in the future. Thanks again for the cake, juice, bread and tea set. This is the most lovely accommodation we have ever stayed. Best wishes to you and your family. Regards, Rachel, Lina, Tianyo
21 April 2014 to 25 April
Dear Helen and David, this has been a lovely stay. Thank you so much for your hospitality and friendly way with us as visitors. The Chalet is warm and cozy and the view is wonderful. We enjoyed your baking and wonderful service at all times as well. Maria had a great time with you and your horses and the boys enjoyedfishing! We will recommend the Kepler Oaks Chalet to all our friends. Walking the Kepler Track was also fabalours! Kind regards, Vibilu, Sverre, Maria and Martin from Norwary
17 April 2014 to 21 April 2014
Dear Helen, DAve, Thomas, George and Harry, and Bolt, Duke, Sebastian, Bonny! We had a fantastic Easter here with you! The chalet is lovely, all the amazing sites we visit, your caring hospitality and all the fun we had with the boys! The loving attitude towards us was well beyond what a host does. We can see you love what you do and that's why this is such an amazing place to stay. Biauca will miss Thomas terribly and my mum love that you shared your recipe! Thanks for all the love and care! Roberta, Qruiloan, Bianca, Carlos and Lucy
11 April 2014 to 14 April 2014
Thanks so much for a fabulous welcome in the perfect start and return point for the Kepler Track the home-baking was literally the icing on the cake! Cheers Matt, Gez and Sarah
9 April 2014 to 11 April 2014
Helen, Thank you for the lovely time and for the aazing horse ride during the sunset. We highly appreciate it. Will send photos of the ride, dog and sheep. Best wishes, Chil, Ofri, Tzachi , Ronit Kar-Katz Jerusalem, Israel
30 March 2014 to 31 March 2014
This chalet is a perfect house to stay. It is just like my own home. Well what I really want to express is that it is evenly more than a home, because you have treated us as your close friends. As your original house, there are so many living items in good condition in the room. My wife told me she met the ideal kitchen she had always drem of. My daughter likes to feed the farm animals, and you are so kind to allow and encourage her to ride Pony. Too much words to write in English, thank you the Kepler Oaks Chalet and thank you Helen. This passing day will be a very important experience in our NZ trip. It is amazing! Yuanlin Chu from China
29 March 2014 to 30 March 2014
Thank you so much Helen for preparing a lot great food, fresh bread, juice and let us have a lovely night ride on horse! We feel so blessed and pleased to stay here with full of your love and kindness! We are looking forward to coming here again in the near future! Helen Stephen from China
27 March 2014 to 29 March 2014
Dear Helen, Thomas, George David and Harry I'm so glad I found this lovely place onlin! Me and my family thoroughly enjoyed our stay at your lovely cottage. The freshly baked bread and cakes were really yummy. Your attention to detail is superb! Thanks for letting us ride on your horse and Heidi was the happiest girl on earth yesterday on the pony! Thank you for making her 3rd birthday an extra special one. We hope to visit this lovely place again and would definitely recommend it to our friends and family Take Care from Samantha, Brandon, heidi, Oliver, ding Singapore and Malaysia
22 March 2014 to 24 March 2014
David, Helen, Harry ,Thomas, George, Bolt Thanks for a wonderful time at your beautiful cottage. We all had a blast. The pure beauty of Te Anau and the lake, mountain sides are stunninly beautiful. The kids loved the farm so much. It was so much fun playing with Harry, Thomas and George there are great soccer players Next time we will play cricket! Also Bolt was so much fun to play with. Helen, huge thanks for your thoughtfulness we loved the wonderful treats including that amazing bread. Hope to see you in the future either in New Zealdn or Sinapore From Anita, Freddy, Kayzad and Shanaya
15 March 2014 to 24 March 2014
When we go home and look at our globe and turn it to New Zealand we will have very fond memories of a very beautiful place- such rich natural wonders the sound of the bellbird, the greens of the bush, the turquoise of the lakes and the lovely people we have met. Thank you for being such caring hosts. Love and God bless from the other side of the world Alison and Geoff Dawber Tonbridge, Kent, England
6 March 2014 to 7 March 2014
Dear Helen's family. Thanks for your hospitilty. We do have a lovely stay here. The food is delicious, and the house is warm. Please say goodbye to Thomas for me. From Zhang HuZ Wang Ruz Zhang Yang, ZhangBadd China Beijing
4 March 2014 to 6 March 2014
Helen, Thank you a lot for our comfortable stay in your chalet. Everything was great. We loved your fresh bread and cakes. We also had a lovely time with horses and ponys and of course Bolt! He is so funny and friendly dog. We wish prosperity and wellness to all your family David, Thomas, Harry and George. Good luck with all these boys. Best wishes, George & Daria Moscow Russia
20 February 2014 to 21 February 2014
Dear Helen, Thomas and boys. Thank you so much for your hospitality and lovely home. We have enjoyed our stay. The bread and cake are the best I have eaten. We really experience the wonderful farm life here. We will truly remember your kindness and lovely animals. Thanks for everthing. Welcome to Taiwan. Next time be my guest. Claiee Shihying
19 February 2014 to 21 February 2014
Dear Helen, Thomas and boys, Thank you so much for your hospitality and lovely home. We have enjoyed our stay. The bread and cake are the best I have eaten. We really experience the wonderful farm life here. We will truly remember your kindness and lovely animals. Thanks for everything. Welcome to Taiwan Next time be my guest. All the best Claire Shihying Miao Shen Chun Ying Taiwan
14 February 2014 to 17 February 2014
Helen and David and Family. We have had a delightful stay lucky with the weather. Thank you so much for your hospitality and help with the easement of our situations. Charming location. Wonderfully helpful Many Thanks for everything, Beautiful place. Sue and Stever Wales Thank you so much for all your help with walks and the cycle ride. I have had great time exploring the area with your fresh bread to sustain me. Hope to come back sometime. Jan
11 February 2014 to 14 February 2014
Me and my dad loved your little cottage in the wonderful and peaceful countryside. If any of my friends are lucky to be able to visit New Zealand. I will tell them about this place. Thank you for the bread, the cakes and the eggs it was a very speical treat. We wish you and your family all the best. Sarah from Sweden David from Melbourne
4 February 2014 to 7 February 2014
Thank you for a wonderful stay. This is a place to which I will return time and time again in my minds eye. Yoonue Retief
31 January 2014 to 2 February 2014
Dear Helen, Thanks for everything you did for us. The horse riding is excellent! Love you so much and looking forward to see you in Shanghai later or we might bring our kids back to Te Anau next winter. All the best Veronica Chen
27 Jan uary 2014 to 28 January 2014
Dear Helen, David, George, Thomas and Harry. Thank you so much for making our journey so comfortable. The cottage was comfortable and warm in the night the stars are shining and it's like so pretty. The fresh orange juice and bread are delicious we really like it. We had so much fun to play with the boys for playing soccer. Thank you Rachel, Sissi, Hillary and Hong
24 January 2014 to 27 January 2014
Helen and David. Thank you for sharing your beautiful peice of the world. Te Anau and your farm was the spot we were most looking forward to on our trip and it definately lived up to our expectations. You do a wonderful job with your chalet and we have really enjoyed meeting your great boys. We cannot wait to come back and do me relaxing and more exploring. Thanks for your generous hospitality. See you soon the Debecks (NSW Australia)
22 January 2014 to 24 January 2014
Fantastic place, Great hospitality. The weather being unseasonally cold, this was the right place to be. The cosy fire made a difference. The baking was equisite and well appreciated, special thank you for all the other treats as well. Also thank you for the ride to rainbow's reach so we could do the walk one way. We enjoyed the use of the mountain bikes too. All in all this stay was superb value for us. We will recommend kepler Oaks to all our friends- be prepared for an avalanche of guests from North Island. Thank you June, Chris & Rupert
20 January 2014 to 22 January 2014
Dear Helen. Thank you so much for the delicious freshly baked bread and your hospitality to make us feel like home. We had great time staying at the chalet. The surrounding scenery is stunning and the enviroment is very relaxing. We enjoyed the horse back riding very much, even it's our first time riding horses. We all feel comfortable with them and they were very friendly during the ride. We all like here very much, thank you for giving us such a wonderful experience. Greetings from Taiwan Anne, Howard and Amika
30 September 2013 to 4 October 2013
Dear Helen, David, Thomas, George and Harry (and of course Bolt, pony, horses, goat and lambs), Thank you for making our stay in New Zealand extra special. The kids are asking to be put on a plane every holidays to stay at "the Farm" Angela Exquisite location, homely surrounds, kindly individual service, lovely family a great stay! Mahdi Thank you for the best stay ever I loved feedng the lambs and I loved the pony rides I also enjoyed geocaching thank you and I hope the sick lamb gets better Isabella Thank you, or the fresh bread and juice. I hope I could stay her forever. Marc
27 September 2013 to 29 September 2013
Dear Helen & Dave, thank you for being such warm and caring hosts. We loved being able to feed the lambs, ride the bikes, & horses, play with the goat, cat and dog. Your boys are delightful & friendly. You have proved that farmstays are not just for little kids- our teenagers loved it. Thanks for the lovely warm bread, jam, fresh eggs and cakes. The highlight was having a wine with you in you home while you cooked us lobster therimidor to take back to our cottage for dinner! We feel like we're saying goodbye to good friends! Lisa, Wayne, Lucy & Max McDermott Lennox Head, NSW
15 September 2013 to 16 September 2013
Helen, what a lovely way to unwind after a long and enjoyable day at Milford Sound. You had prepared the rooms with the fireplace going and fresh bread in the kitchen. How lovely! The jauzzi was so inviting, mum is going to have a leisurely soak. Your kind note to Vishal was waiting for us on arrival and provided all the information we needed. The accommodation is so cosy, full of antique pieces that kept us all fascinated for hours. Love the bathroom and the decor of the entire chalet. Home-made jam and fresh bread were so good. The long, personal horse-ride was fantastic. Love Bolt, the dog and the lamb, the goat, the horses. Helen you have been a wonderful hostess. Thank you, Thank you !! Mala, Vishi and Miera
20 August 2013 to 23 August 2013
We had a great time at your cottage, we felt cozy at the night, thanks for setting the fireplace before we arrive. We enjoyed the fresh bread, eggs, the time we spending with your animals. Your beautiful house and your lovely family will always hold a special place in our memory when we thinking about Te Anau. And we will highly recommentd your place to our friends who will come to New Zealand. Echo & Leon (Melbourne)
28 July 2013 to 3 August 2013
This has been one of the best family vacations we've taken. Its so relaxed: The boys have enjoyed riding the horse and the pony, checking for eggs, chucking rocks in the river and just being here. Who else would have trekked to Luxmore Hut with Me? Helen's assistance with our tours -Luxmore Jet & Air Fiordland was invaluable and helped set up memorable tours. And, of course spending an evening chatting, having a few glasses of wine and watching Ata Whenua was terrific. What a lovely family to spend time with: We are planning to come back to kepler Challenge 2014 and will be sure to book for in advance. Thank you for the hospitality and wonderful accommodation Shaun, Britta, Rowan, Kellan and Brendan Dempsey USA
3 July 2013 to 5 July 2013
Thank you so much for letting us stay in your beautiful home. It's located in such a perfect setting, Alex and I really enjoyed our ride on the horse. Thankyou for your hospitality (we loved all of the homemade food.). Thank you for the wonderful stay and experience: Looking forward to staying here in the future Maya, Alex, Nenez, Bob California USA
27 April 2013 to 4 May 2013
Thank you so much for the lovely stay. The cottage was wonderfully warm and cosy with super views. Thank you also for the advice on where to go and what to do you live in such a wonderful part of the world. Edward, Anna and Sophie thoroughly enjoyed their pony rides and it was great to see them gaining more and more confidence. Our children will miss your boys, and we will miss the beauty and tranquility of fiordland. Thank you for being such wonderful hosts. We look forward to seeing you again, very best wishes, Jo, Ivan, Edward, Anna, Sophie- Roslyn, Dunedin formerly Norwich UK
25 March 2013 to 31 March 2013
A big thanks for your warm welcome. We had a wonderful and lovely stay. Everything was perfect from the homemade cookies to the fresh daily bread and the quiet environment. Our kids had a lot of fun with George, Thomas and Harry. We enjoyed even more the place after the four days of Kepler track. Warm regards Sasime, Albane, Pascal, Timotfiee and Thomas from France
24 March 2013 to 25 March 2013
Dear Helen and David Thank you so much for your lovely hospitality! We loved the cottage and dinner was such a treat. Thank you for welcoming us into your home and spending the evening with us! And an extra thanks for sharing Maxie the animals. We look forward to coming back soon and please be in touch if or ever find yourselves in the US! Rachel, Michael, Maxine, Rick and Laura
20 February 2013 to 22 February 2013
Thank your for the lovely stay. We really appreciated all the thoughtful touches. Monica & Clementine Lovell Herefordshire UK We really enjoyed our time here in this beautiful spot. Thank you for all the goodies (especially the fresh bread) and all your help and for making us feel so welcome. With best wishes Shirley Stauford UK
13 February 2013 to 14 February 2013
Dear Helen ad David, Thank you for accommodating my family group. Was such a pleasant stay after coming off the Kepler Track. Beautiful surroundings of the mountains and your away of animals right outside the cottage. Just lovely! Fiona, Colin, Tina, Lauren, Giovarmi Austrailia and Italy
3 February 2013 to 4 February 2013
Lovely cottage in quiet setting. Comfy beds, gorgeous Spa bathroom, self contained kitchen all we needed, Only 20 minutes to our Doubtful Sound trip. Loved village of Te Anau, Lovely relaxing time Elaine Price Ohio USA Thank you so much for letting us stay in your beautiful cottage, it was everything we needed in a wonderful setting. Ann and Stan Gale Isle of Wight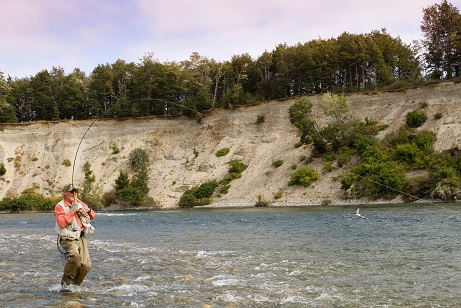 Fly fishing with Fiordland Outdoors